About Me

Hi, my name is Natalia Rozas and I am a Certified Professional Dog Trainer (CPDT-KA) and the owner and webmaster of Dog Training Excellence.
I am a dog lover just like you are!
And I am also a professional in the field, so... thank you for stopping by because I have so much information I want to share with you!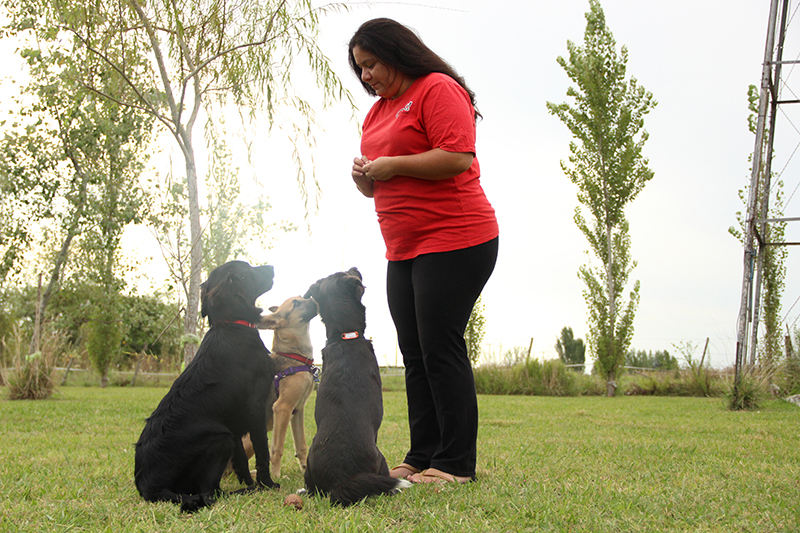 This is how my passion for dog training and behavior started...
I grew up in Argentina surrounded with animals, my mom taught me to love them all...and when I say all...I am not exaggerating:
Cats, dogs, birds, hamsters, fishes, ducks in the bathtub of a summer apartment, an injured bat living in the bathroom (hand fed), carterpillars that turned into butterflies, and I am sure I am forgetting some too!
My mom is an animal guru, she just loves animals, observes them and rescues them when she can (my dad doesn't fall behind either!).
My upbringing led me to study Biology at the University of Buenos Aires, Argentina and my love life took me to the US where I earned my Ph.D. in Neuroscience (you can read my thesis here if you reeeeallyyyy want to) from the University of Texas Health Science Center at Houston.
I have always been interested in the brain; how it works and how we learn and make new memories, that's what my thesis was about. So, during the day I am a neuroscientist. I plan experiments, write grants, analyze data and write manuscripts for scientific publications. If you like science, like me, you can look up my publications in PubMed.

But, as a neuroscientist I do not study dogs. My current research is about oral health and its link to neurological disorders like Parkinson's disease and Alzheimer's disease.

Where do dogs come into the story?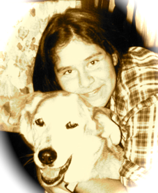 Chip, my first dog
As a little girl I used to daydream I could talk with animals (Who didn't, right?). I would try to meow like a cat or bark and snarl like a dog (I was pretty good too!). I would curl up next to my dog, his name was Chip, and talk to him, hoping he understood what I was telling him.

I now know that animals don't have a language like ours but that they can communicate. They can also understand us, if we teach them how.
When I arrived in the US I couldn't work for the first few months, so I spend my time as a volunteer at the Dane County Humane Society (Madison, WI). That's when I first heard about positive training, in their mini (30 min) training session for volunteers.
Then, I became a dog trainer apprentice working at Teacher's Pet Training Academy (Madison, WI) where I met so many great trainers and was able to work with lots of dogs giving group classes.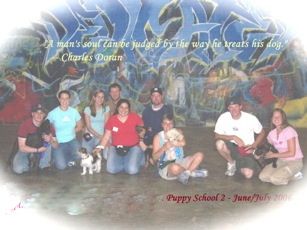 As a lead trainer at Teacher's Pet Training Academy (sorry for the photo quality, this was back in 2006 - no HD)
This is what my passion for behavior and training grew into...

So, yes...
I am a scientist by day and a dog trainer by night...

I love reading, researching and doing experiments to understand how learning and memory work, both in animals and humans. 

I also became a professional dog trainer, certified through the Certification Council of Pet Dog Trainers. Now I can apply my background knowledge to a real world application..
… dogs! And it never stops to amaze me when I see it in action.


Most of all I love sharing this passion!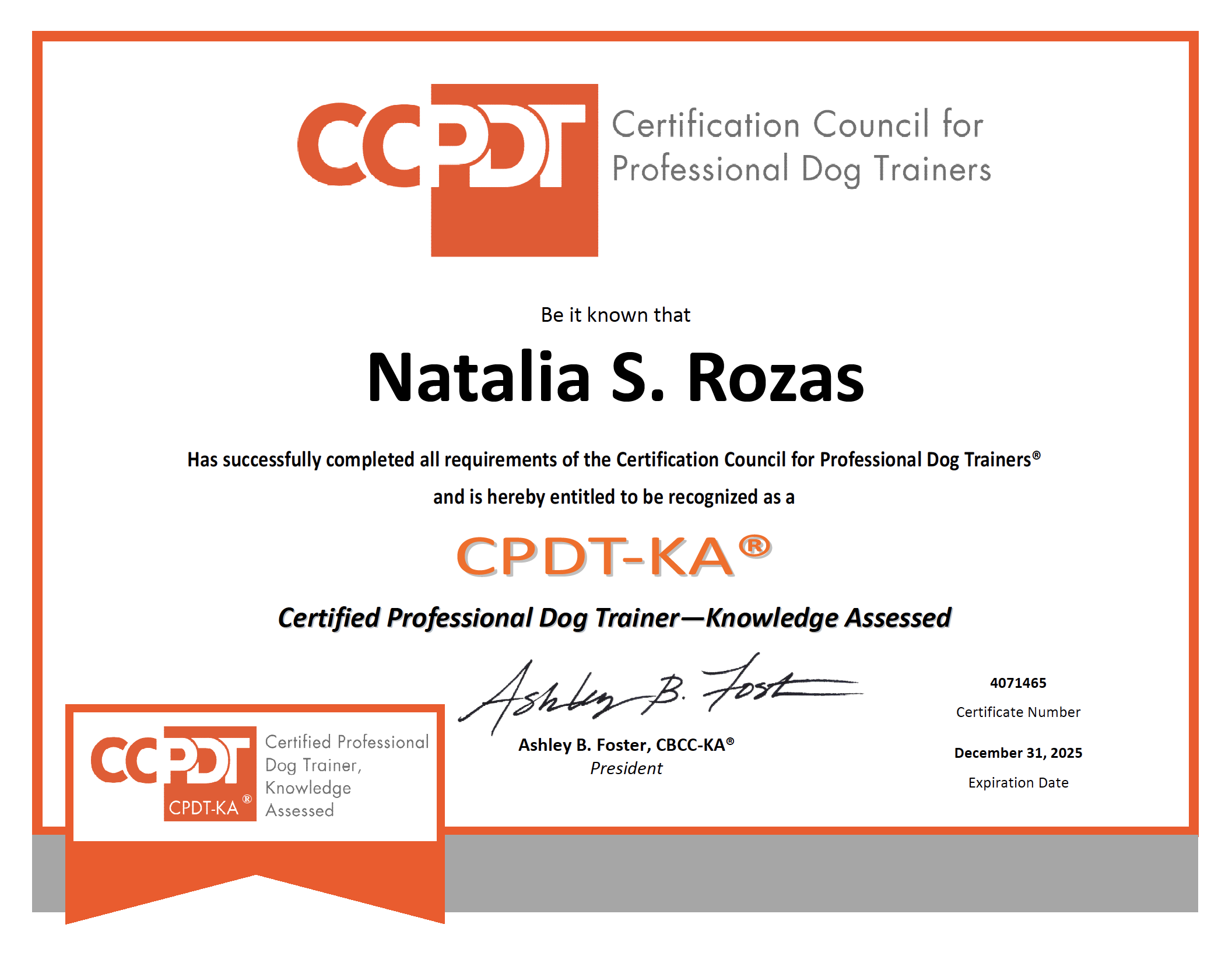 This is my CCPDT certification. Notice that it expired at the end of 2025? This is because this certification has to be renewed every three years. I must attend courses and keep up to date with dog training and behavior to remain certified.
I have been training dogs for the past 15 years and I am one of the lucky dog trainers that started out only using positive methods. I have trained group lessons, private lessons, and I am also a Canine Good Citizen Evaluator.
As a certified pet dog trainer I attend seminars, read books and keep myself connected to other trainers to continue my learning. I always strive to give you the latest information on animal training that is based on scientific research.

Some of my tips have been featured in the book "Top Tips from Top Trainers". A great book full of advice about everything dog training.
My current job as a dog trainer
I currently own a dog training school in Buenos Aires, Argentina "Click! Adiestramiento Canino". I offer group classes, private lessons and a Dog Trainer Certification to prepare positive dog trainers in this country (at the south end of the world). This a one year course with lectures and practical lessons.
I am also webmaster of Dog Training Excellence, this website. My goal with this site was to spread the word about positive training methods and create free and accessible tutorials for everyone to be able to train their dogs. I hope you enjoy all the articles and learn a lot about your furry best friend!
If you would like to support my work here, you can be my patron and help me keep this website up and with current content. You can support my work with only $1 per month through Patreon.com and get exclusive benefits!

How I built this website...

Back in 2012, while finishing my degree and raising my kids, I found less time to train one-on-one classes. I wanted to build a website that could reach many people, a website that would spread the word about positive dog training methods. After several failed attempts at doing it all by myself I found the Site Build It! or SBI! program.
Finally, someone who would explain to me step-by-step how to build my very own dog training website. And I must confess, I don't have any programming skills. If you ever find yourself thinking about writing a website or blog, I strongly recommend SBI! Thanks to them, this site keeps growing faster and faster and I enjoy connecting with dog lovers all over the world.

I truly hope you can find a lot of useful information here, if you have questions or comments you can contact me or you can even tell us your dog story!
| | |
| --- | --- |
| Callisto, my current companion dog. | Enjoy your dog, thank you for visiting and I hope you come back soon! |
Join me on these social media communities!
---
Start by learning about Dog Behavior.

Return to Home page.

---