Do Barking Dog Sounds Have Meaning?

Have you ever wondered if barking dog sounds are messages? Can hounds understand each other? Could you learn to understand them? Scientists have been trying to answer these questions for a while.

Barking develops in parallel with other social behaviors, hinting that maybe there is a meaning to it after all. Certain aspects of a dog barking sound can give other canines and even humans information.
If you have a barking dog problem, one of the first things you need to do is try to understand why your pooch is woofing excessively. There are two very important reasons for this:
1- You can do something about the trigger to stop a dog barking.
2- You will become closer to your furry best friend by learning and understanding more about his behaviors and motivations.

What's in a dog bark?
There are three aspects in barking dog sounds that will tell you something about the situation and emotional state of your canine friend.

When calling your pooch to come to you, use a high pitch excited voice.

Time in-between barks: How fast or slow is the canine barking? Usually fast paced barking means a dog is excited and wants to convey urgency.

Length of a single bark: The longer the bark is, the more threatening the meaning. In two independent studies, hounds exposed to strangers at the door had longer barks than when their owners arrived. In contrast short barks are associated with fear or excitement.

Do dogs bark to communicate?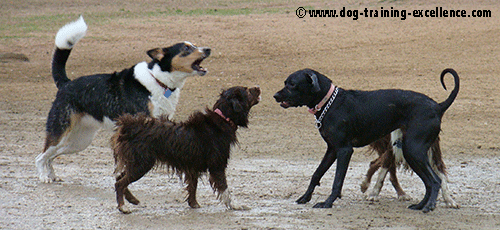 The short answer is yes. Many studies have shown that both canines and humans are able to interpret correctly a canine's situation only by hearing its barking. The interesting aspect is that both, experienced dog people, as well as inexperienced participants were able to arrive at the same conclusions. There seems to be individual specific components of a bark that can also help in the identification of a specific member of the pack.

If you are interested in barking dog sounds because you are trying to figure out why is your dog barking, chances are you already have some clue about it: whether it's fear, excitement or an alert call. The types of barking sounds below should help you start solving your barking dog problem.

Want to take your pooch to the next level? Try Dognition! It's an app that will guide you through many exercises to help you know your dog's abilities better.

Examples of barking dog sounds and their situations:
Now that you have more information, find out why your pooch is barking so much and use the right solution to your particular problem.

If you have questions or would like to share your story please follow the instructions here. You can leave comments below as well.

Recommended Readings:

References:
Barking in family dogs: An ethological approach. Pongrácz P., Molnár C., Miklósi A. The Veterinary Journal 2010.

Dogs discriminate between barks: The effect of context and identity of the caller. Molnár C., Pongrácz P., Faragó T., Dóka A., Miklósi A. Behavioural Processes 2009.

A new perspective on barking in dogs (Canis familiaris). Yin S. Journal of Comparative Psychology 2002.



---
Home

>
Stop Dog Barking

>
Barking Dog Sounds
---