7 Delightful Dog Liver Treats
to Win Your Pet

Dog liver treats are some of the most popular delicacies among dogs, they have a strong aroma and rich flavor. They are excellent dog training treats since canines will do anything you ask even around distractions. Try these liver treat recipes and win your pet!

Although liver may not sound appetizing to most people, I have yet to find a dog that will refuse it. Liver can also be very good for your dog's health if given sporadically as a training reward a few times a week.

Liver is a rich source of protein, fat and provides vitamin A, B vitamins, omega-3 and omega-6 fatty acids. It is a good source of iron, zinc, copper, phosphorous and niacin. However, because of it's high vitamin A content, you shouldn't feed your dog liver daily or in great quantities.

I always like to emphasize the importance of enriching your dog's life, and treats with different flavors and textures are a great way to do so. Dog liver treats can be made with beef, chicken, pork, or bison liver for variety. The only drawback of dog liver treats is that any recipe that involved baking liver will stink up your kitchen!

Grain-Free Dog Liver Treats
This recipe is excellent to make big dog biscuits or small training treats. Cut the pieces as big or as small as you need to. It is also a great recipe because all ingredients are healthy and it has no additives. It is one of my favorite recipes because it is actually really easy to make and you end up with easy to carry, mess-free treats. Hope your dog enjoys them!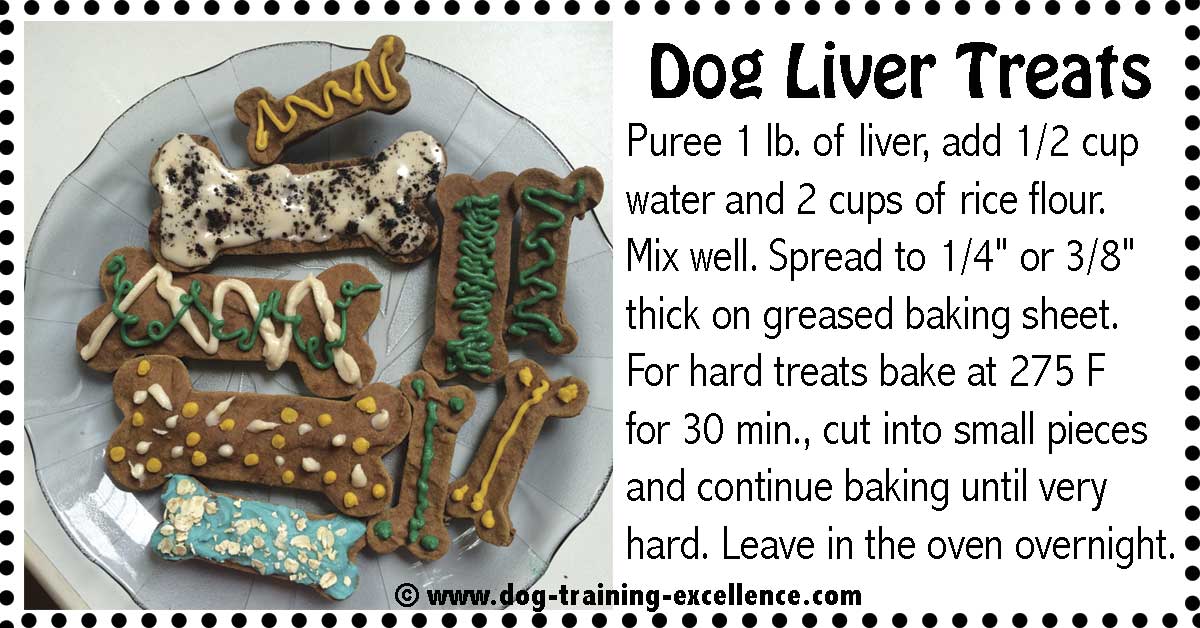 Ingredients:
1 lb. liver (any kind)
2 cups rice flour (or tapioca flour)
2 cloves of garlic
1/2 cup water
Puree liver until you get a sticky paste, add flour and water. I also recommend you add 2 cloves of minced garlic. Garlic for dogs, in recommended quantities, can be very healthy.

Mix all ingredients until you have a smooth dough.
Spread on a baking sheet, making a thin layer 1/4" or 3/8" thick. You can use parchment paper or Pam spray to prevent the dough sticking to the pan.
For hard treats bake at 275 F for 30 min., take it out of the oven and cut into small pieces, you can use a bone shaped cookie cutter. Continue baking for 2-4 hours until treats are hard.

For softer treats, keep an eye on the oven and take the treats out when they have the consistency you like.

Soft treats have to be refrigerated but hard ones can be kept in the cupboard in a sealed container.

Dog Liver Waffle Treats

Liver waffle treats are more of a pampering type treat, you can make a big waffle for your dog, spread it with cream cheese or apple sauce and let your dog enjoy it! You can also cut the waffle into small pieces and use them for training.

Ingredients
3 cups rice flour
2 eggs
1 cup pureed liver
1 tbs baking soda
1 tb oil

Mix rice flour and baking soda.

Stir in eggs, oil and liver.

Pour into waffler sprayed with canola oil and bake until set.
I recommend you cut the waffle into smaller pieces to feed to your dog.

If it is a special occasion, then you can top the waffle with beaten egg whites.

To create perfect gourmet styled dog treats, try the "Bake-A-Bone" maker.
It will make dog treat making so much more fun!

Bake-A-Bone The Original Dog Treat Maker
Freeze Dried Dog Liver Treats
Freeze dried dog liver treats are some of the hardest treats to make at home, specially if you do not have a good freezer or live in a humid area. But it's worth a try for fun! and the treats are super healthy because they are only made with liver.

Ingredients
Fresh cow or calf liver - pick the quantity

Boil liver for 35 to 45 minutes or until completely cooked.

Let the cooked meat cool completely (and air dry too).

Cut liver into small bite size pieces and lay the pieces out on a flat baking sheet.
Optional: Bake treats at 200ºF for 30-60 to reduce water.

Place the baking sheet with the dog liver treats in a very cold freezer or a deep freezer. You will need good and cold freezer for better results.  the meat to be dry and frozen into a dehydrated state.

Keep in the freezer for 5-7 days, the meat should be dehydrated and frozen.

To make sure treats are dehydrated completely, take one treat out and let it thaw, if you see any moisture or water, treats need more time in the freezer. It is normal for the liver to turn white after freeze drying.
When ready, treats can be stored in a sealed container at room Tº, although you may want to keep them in the freezer.

Dogs simply love these liver treats and because the meat is cooked and dry they are also mess-free. However, if you fail in your attempt to make them, there are always healthy options to buy too:

Stewart Freeze Dried Liver Dog Treats
Liver and Chia Seeds Muffins

Liver muffins are great dog liver treats to keep your dog entertained for a little longer, specially if you fill a toy (like a Kong) with it. This recipe also contains chia seeds, a superfood for dogs too.

Ingredients
1 cups pureed liver
2 cups of flour (or rice flour)
1/3 cups water water
2 eggs
2 tbs chia seeds
1tsp baking soda
1/3 cup oil

Mix dry ingredients: flour, chia seeds and baking soda.
In a bigger container mix wet ingredients: pureed liver, water, eggs and oil.

Ad dry mix slowly to the wet mix until well blended.

Pour mix into muffin cups and bake at 400ºF for 20-25 minutes.
You can feed the muffin to your dog as is, but I highly recommend you cut it into pieces and use them to teach him a cool dog command or stuff a toy to keep him entertained for a while longer.

Liver Truffles Dog Treats
Truffles can be a little messy and not the most efficient for dog training. But dogs love them and if frozen the mess is reduced.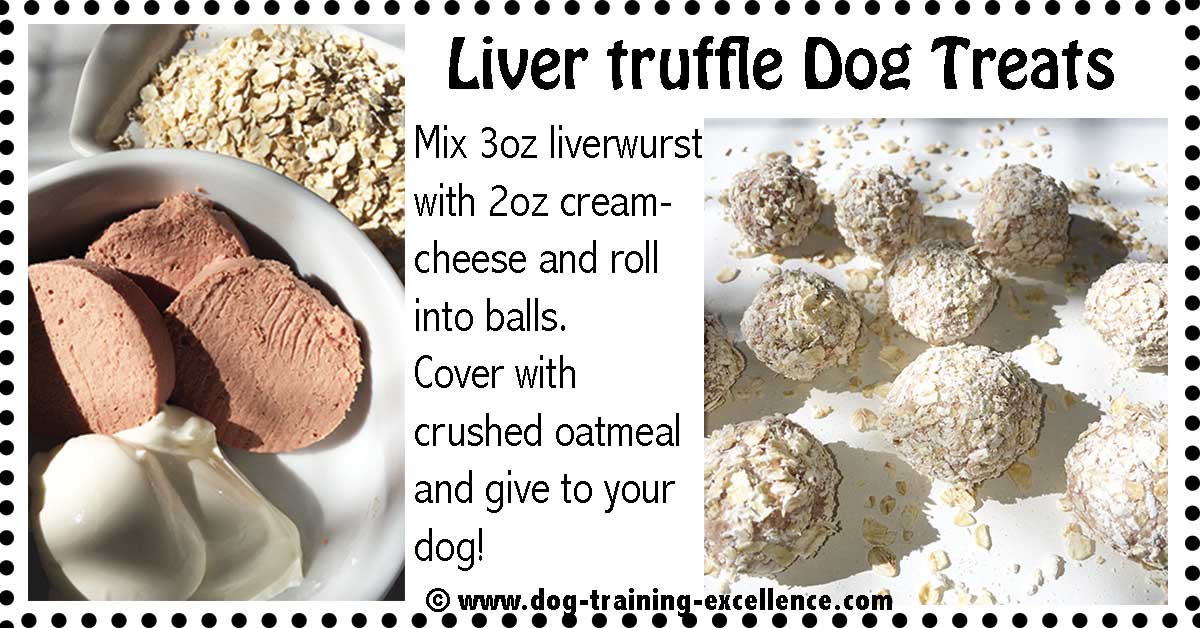 Ingredients
1/2 cup of shredded oatmeal
3 oz of liverwurst
2 oz cream cheese

Crush the oatmeal with a rolling pin.
Mix liverwurst and cream cheese.
Roll into balls and cover in crushed oatmeal.
Give to your dog!

These dog liver treats can be stored in the fridge or freezer.

Liver Energy Bar for Dogs
These dog liver treats are full of healthy ingredients but should be used sparingly.

Ingredients
1lb liver
1 1/2 cups of cornmeal
1 1/2 cups of wheat germ
3 eggs
3 cloves of garlic

Puree all ingredients with a food processor.
Pour mix into a greased baking sheet and spread into a thin layer (1/2 to 1 inch).
Bake at 350ºF for 20 min.
Cool down completely and cut into small pieces for training or bigger pieces for a snack.

You can store this dog liver treats in the fridge or freezer.

Baked liver treats
Baked dog liver treats are also a form of dried treats, but they do not require the freezing step. Instead, they stay in the oven much longer. These are also great for training treats if you cut them into small pieces.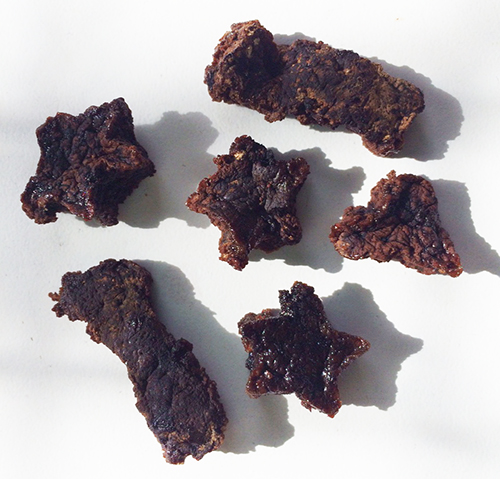 Ingredients
1lb liver
3 cloves of garlic

Preheat oven to 200ºF and line a cookie sheet with parchment paper or spray with Pam.
Boil liver and garlic cloves for 30 min.

Discard garlic and cut liver into small pieces. The thinner they are, the faster they will be ready to give to your dog.

Place liver pieces on the cookie sheet and bake for 1-2 hours.
Rotate pieces and bake for another 1-2 hours.
When treats are completely hard and dry, take them out of the oven and let them cool.
You can store this dog liver treats in the fridge or freezer. If they are completely dry, they can also be stored at room Tº in a sealed container.

Hope you have fun baking dog liver treats and playing with your furry best friend. If you know other liver treat recipes, please feel free to share them in the comments box below.
---
Home

>
Dog treats

>
Liver dog treats
---