400+ Memorable Golden Retriever Names
to Celebrate your New Dog
A list of Golden Retriever names made specially for this friendly and loyal dog breed. We have searched for perfect Golden Retriever dog names to suit that cute furry ball you just adopted.
Naming your new best friend should be a cause for celebration. After you find the perfect name, gather the family around and make it a memorable event too.
The best dog names are short and sharp, something that calls your dog's attention. It is also important that the name has a special meaning and sets your pup apart. That special meaning may be something unique to your story, or something about your new dog.

There is a wide selection of names for boys and girls for your to choose from. We divided the names in different categories to make it easy for you to find the best fitting name for your new family member. After choosing your Golden Retriever's name, teach your dog its name with our training tips.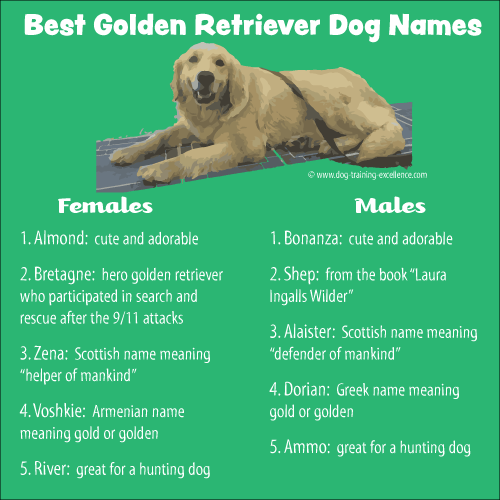 Brave and Loyal Names

Golden retriever dogs are smart, loyal and brave. That is why this breed is so popular among working dogs. Goldens participate in search and rescue missions and are a favorite breed for guide dogs and therapy dogs. Here are a few names that will enhance these traits in your new Golden Retriever puppy dog.

Althea
Anya
Arion
Audrey
Brave
Brianna
Calamity
Casey
Drusilla
Isis


Kelsi
Keren
Kyra
Liona
Marcia
Moza
Trinity
Valentia
Valora
Virika

Akins
Atreus
Baron
Garrillo
Gunner
Hartmut
Hudd
Humam
Kekoa
Koen


Leonard
Madog
Minion
Mozo
Shah
Tylen
Vigilante
Yong
Zufar
Zyatt
Return to golden retriever name categories.

Unique Golden Retriever Names

If you are looking for something different, here is a list of unique golden retriever names. They were randomly selected because they are not the most common names and yet they sound wonderful.

Almond
Bexley
Bianca
Blush
Brea
Galaxy
Jinx
Marygold
Maxine
Meadow
Nanuk


Nyx
Oda
Oralie
Orla
Sedona
Selene
Shiloh
Xael
Zariah

Ajax
Amos
Bilbo
Bonanza
Boris
Colombo
Earl
Felix
Fergus
Flaxen


Guster
Keon
Keren
Lupo
Malik
Mojo
Reckless
Sheikh
Valentino
Zeke
Return to golden retriever dog names categories.

Famous Golden Retriever Dogs

There aren't many famous golden retrievers, although there are thousands of unrecognized heroes that work daily saving lives or even making a single human life better. This is a list of famous golden retriever names, some of them also belong to celebrities.

Females

Bretagne: Golden Retriever Hero dog that participated in the search and rescue after the terrorist attacks of Sept 11, 2001.


Charlie: Adam Levine's Golden retriever


Frankie Girl: Adam Levine's Golden retriever dog that past aways.


Gracie: Oprah Winfrey's Golden retriever dog


Liberty: American president Gerald Ford's dog


Rosebud: Air buddies movie


Shadow: Stars in the movie "The incredible Journey"


Victory: Ronald Regan's dog


Presiden Ford and his Golden Retriver "Liberty" on a work day.

Males

B-Dawg: Air buddies movie

Bailey: Stars in the movie "The Adventures of Bailey: The lost pup (2010)
Brinkley: Stars in the movie "You've got mail"


Budderball: Air Buddies movie


Buddha: Air buddies movie


Buddy: Air buddies Movie


Comet: From the TV series "Full House"


Digby: From the TV series "Pushing Daisies"


Dug: From Pixar movie "Up"


Duke: Poster dog for advertisements of Bush's Baked Beans.


Elvis: Nick Jonas's dog


Fluke: Star in the movie "Fluke"


JJ: Jackie Chan's dog


Jojo: Pamela Anderson's dog


Jones: Jackie Chan's dog


Luca: Oprah Winfrey's Golden Retriever dog

Mudbud: Air buddies movie


Pontiac: Betty White's Golden Retriever


Renn: Andrew Garfield and Emma Stone's Goldent Retriever


Riley: Golden Retriever Hero dog that partcipated in search and rescue after terrorist attacks on September 11, 2001.


Shelby: Stars in Smallville as a superdog that lost its powers.


Shep: From the book "Laura Ingalls Wilder's these happy golden years"

Return to Golden retriever puppy names categories.

Scottish Golden Retriever Names

Golden retrievers first appeared in Scotland, they were bred to be able to retrieve game from water and land. That is why so many of them like the water so much! Interesting fact: every year they celebrate the breed with a Golden Retriever Festival, it is supposed to be the cutest party on earth. This list contains golden retriever names from Scottish origin to honor their ancestry.

Females

Abhainn: River


Acair: Anchor


Aifric: Pleasant


Aileas: Scottish form of Alice


Ailith: Seasoned warrior


Alana: Beautiful


Alyth: Rising


Annag: Scottish form of Anna


Annis: Scottish form of French Agnes


Arabel: Lovable


Barabal: Scottish form of Barbara


Beathag: Life


Beira: Queen of the winter


Beitris: Voyager through life


Blair: Battlefield


Boobrie: Mythical water bird


Catriona: Pure


Ciorstag: Believe, follower of Christ


Dallis: From the valley meadows


Daracha: from the oak


Davonna: Beloved


Deòiridh: Pilgrim


Dolag: World ruler


Donnag: World ruler


Eara: From the east


Edeen: From Edinburgh


Eiric: New speckled one


Elspet: Scotish form of Elizabeth


Eubha: Scotish form of Eva, Life


Finella: White shoulder


Gara: Short


Gavina: May hawk or white hawk


Greer: Watchful, vigilant


Ilka: Of the same class


Innis: Island


Iona: Island


Jamesina: Feminine form of James, supplanter


Jinny: Scotish form of Jenny, white and smooth


Jinty: Scotish form of Jeanne, God is gracious


Males

Aindrea: Man, warrior


Alaister: Defender of mankind


Angus: Celtic god of love


Aodh: Fire, sun god in Celtic mythology


Aodhagán: Little fire


Artair: Bear-Man


Balfour: Grass, pasture


Beathan: Life


Benneit: Blessed


Bhaltair: Ruler of the army


Bláán: Little yellow one


Boyd: Blond, yellow haired


Cailean: Young pup, whelp


Cairbre: Charioteer


Calum: Dove


Ceannitighern: Head lord


Cináed (English:Kenneth): Born of fire


Comhnall: Hound of valor


Craig: Rock


Cuddy: Bright fame


Davy: Beloved


Daw: Beloved


Dolaidh: World ruler


Drummond: Ridge


Duff: Black or dark


Dùghall: Black stranger


Ellar: Superior of a church cell


Eòin: God is gracious


Errol: To wander


Forbes:District, field


Glenn: Valley


Gordon: Spacious fort


Grant: Great, large


Greig: Watchful, vigilant


Haggis: Traditional Scottish dish made with Sheep's pluck.


Huchon: Mind or spirit


Innis: Island


Ìomhar: Bow warrior


Jock: Scottish form of Jack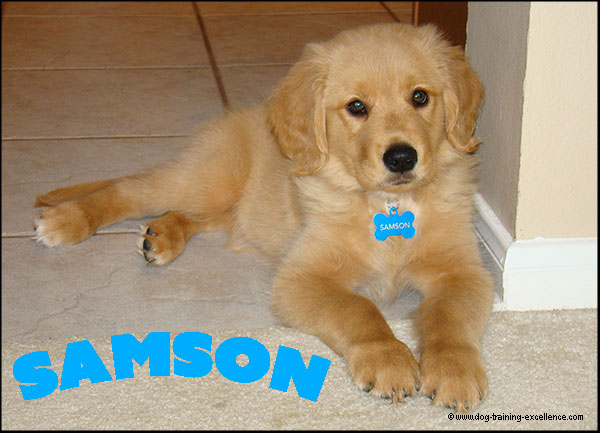 Kenzie: Short for Mackenzie, finely made


Kyla: Feminine form of Kyle, slender


Kylee: Feminine form of Kyle, slender


Lachina: Lake-land


Lilias: Lily


Lyall: Shield wolf


Maighdlin: magnificent


Maired: Scotish form of Margaret, pearl


Mhairi: Rebelliousness


Morag: Great


Murdag: Sea Warrior


Mysie: Pearl


Nairna: Dwells at the alder tree river


Nessy: from the Loch Ness Monster


Nighinn: Young woman


Nonie: Island


Paislig: Possible church


Rhona: Wise ruler


Scotia: Mythical Scottish Goddes


Selkie: Mythical marine creature


Senga: Slender


Sidhe: Gaelic name for fairies


Sìleas: Scottish form of Cecilia


Sinnie: New victory


Teàrlag: Instigator


Ùna: Hunger, famine


Wynda: From the narrow passage


Ygeme: Mother of Arthur


Ysolde: Lover of Tristan


Zena: Helper of mankind

Zennor: Place name





Kelpie: Mythical water spirit from the lowlands of Scotland.


Kester: To spring up, grow, thrive


Kyle: Slender


Laird: Land owner


Lamont: Law man


Lennox: Place of elms


Loch Ness: Lake were it is said a monster lives.


Lochlann: Lake land or from Norway


Lyall: Shield wolf


Moray: Sea Warrior


Muir: Short of Moray, sea warrior


Mungo: Dearest friend


Osgar: Deer lover


Pàl: Small


Raibert: Scotish form of Robert, Bright fame


Ramsay: Wild garlic island


Ranulph: Shield wolf


Ronald: Wise ruler


Ruairi: Red King


Seumas: Supplanter


Sinclair: from the place in France


Somerled: Summer traveler


Steenie: Crown


Suibhne: Well-going


Tasgall: Divine Kettle


Teàrlach: Instigator


Thorburn: Thor's bear


Tocuil: Thor's Cauldron


Ualan: Healthy, strong


Valan: Healthy, strong


Wilkie: Will-helmet

Wulvers: Mythical good natured werewolves that are said to leave poor families food.
Return to golden retriever names categories.

Hunting and Tracking Dog Names

Ariboo
Artemis
Arwin
Atlas
Banshee
Benelli
Bombshell
Boomba
Cabela
Cheyenne
Dakota
Dawn
Echo
Firefly
Halo
Junebug


Kona
Lady
Ladybug
Raven
Reload
River
Ruby
Shiloh
Sniff
Sniper
Sparta
Speedy
Storm
Taz
Woodsanne
Xena

Ammo
Antrax
Apollo
Arrow
Bear
Boomer
Bootstrap
Bramble
Brutus
Buckshot
Bullet
Chase
Conan
Flare
Gunner
Hawk


Hunter
Magnum
Maverick
Orion
Outlaw
Pistol
Rambo
Scout
Snuff
Todd
Toxin
Trigger
Wilder
Wyatt
Zero
Zeus
Return to top categories for Golden retriever names

Names that mean "Gold" or "Golden"

If you think your dog is golden (not just because of the breed), here is a list of golden retriever names that mean gold or golden in different languages.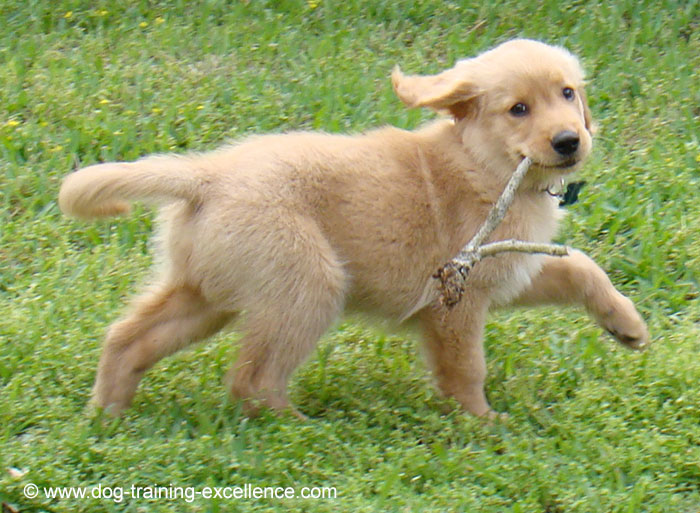 Female

Altin (Turkish)
Aneira (Welsh)
Aranka (Hungarian)
Aurie (Romanian)
Aurnia (Irish)
Bang vang (Vietnamese)
Chrysta (Greek)
Dahab (Arabic)
Deebe (Muslim)
Dior (French)
Dorada (Spanish)
Dorata (Italian)
Doré (French)
Dourada (Portuguese)
Gilda (English)
Goruden (Japanese)
Gouden (Dutch)
Gylden (Danish)
Gyllen (Norwegian)
Gyllene (Swedish)
Haimi (Hindi)
Hema (Hindi)
Hemal (Hindi)
Humaila (Hindi)
Jin (Chinese)
Jīnsè de (Chinese)
Jwahir (Golden woman in Swahili)
Kin (Japanese)
Kula (Hawaiian)
Kultainen (Finnish)
Li-Paz (Hebrew)
Marigold (English)
Nazneen (Indian)
Niamh (Irish)
Nudara (Arabic)
Ofira (Hebrew)
Onaedo (Nigeria)
Ora (Spanish)
Oralie (English)
Orelia (English)
Orianna (Latin)
Orla (Irish)
Orlene (English)
Slaty (Czech)
Slota (Polish)
Sonali (Hindi)
Topacio (Latin)
Vainavi (Hindi)
Vanna (Cambodian)
Voshkie (Armenian)
Zahabu (Ethiopia)
Zahavah (Hebrew)
Zareena (Muslim)
Zarrin (Iranian)
Zehavi (Hebrew)
Zerrin (Turkish)
Zlatan (Croatian)


Male

Altin (Turkish)
Aureliano (Latin)
Aurelio (Spanish/Hawaiian)
Aurie (Romanian)
Auriville (French)
Bang vang (Vietnamese)
Chittem (Biblical)
Chrysostom (Greek)
Dahab (Arabic)
Dibzahab (Biblical)
Dorado (Spanish)
Dorato (Italian)
Doré (French)
Dorian (Greek)
Dourado (Portuguese)
Gildea (Irish)
Giolladhe (Irish)
Golding (English)
Goldwin (English "Golden friend")
Goldwine (English "Golden friend")
Goruden (Japanese)
Gouden (Dutch)
Gwri (Celtic)
Gylden (Danish)
Gyllen (Norwegian)
Gyllene (Swedish)
Hati (Hindi)
Hemachandra (Indian)
Hemadri (Indian)
Hemaraj (Indian)
Jin (Chinese)
Jīnsè de (Chinese)
Kanak (Hindi)
Kittim (Biblical)
Kula (Hawaiian)
Kultainen (Finnish)
Li-Paz (Hebrew)
Michtam (Biblical)
Midas (Hebrew)
Nye (Welsh)
Ofir (Biblical)
Onille (French)
Oriel (French)
Orlando (Latin)
Orleans (French)
Orvelle (French)
Paz (Hebrew)
Sarepta (Biblical)
Slaty (Czech)
Slota (Polich)
Topaz (Latin)
Uphaz (Biblical)
Zeheb (Turkis)
Zereen (Islamic)
Zlatan (Croatia)

Return to top for categories of golden retriever names.

Golden retriever names from our readers

Sometimes the best names come to us from others. Share your dog's name with us, weather you picked one from our list or want to share another dog's name, simply fill out the form below!

Female

Angela Llin - From EEUU
Boira - From EEUU
Catalina Genes - From Mexico
Electra - From Mexico
Jade - From EEUU
Kiara - From Peru
Luna - From Bolivia
Maca - From EEUU
Maya - From EEUU
Milashka - From Canada
Mina - From Mexico
Mya - From EEUU
Sacha - From Mexico
Sara - From EEUU
Skylar - From EEUU
Tara - From EEUU
Yulexi Can - From EEUU
Zusy - From EEUU


Male

Antonio - From Argentina
Chester - From EEUU
Dony - From Australia
Draco - From EEUU
Kenai - From EEUU
Kiler - From Mexico
Marley - From Colombia
Matt - From EEUU
Paikan - From Argentina
Simba - From EEUU
Tango - From Argentina
Tato - From Argentina
Teo - From Mexico
Terry - From EEUU
Ulyses - From EEUU
Vicente - From EEUU
Victor - From EEUU
Zeus - From EEUU

---
Return to top categories to browse more names for golden retriever puppies.

Home

>
Golden Retriever Training

>
Golden Retriever Names
---