Service Dogs Coloring Book
to Paint and Learn

Service dogs coloring book was created by Kelli Bannert to honor the life of these amazing animals that spend their life helping us, humans. Kelli is a young american, she is learning animal science and art; her first book is certainly showing her passion for both. In this interview, Kelli tells us about her journey and inspiration.





Kelli trained her first service dog Arya two years ago and got introduced into the service dog community, which she fell in love with.

She enjoys drawing animals and was inspired to create a service dogs coloring book to teach people and kids about the wonderful life of these animals.

Her service dogs coloring book has 52 hand drawn dog coloring pages to enjoy and learn at the same time.

We asked Kelli to answer a few questions about service dogs and her first coloring book (of many to come!), and we think you'll find her answers very interesting. Enjoy!
---
What inspired you to create a service dogs coloring book?
I was working on other forms of line art, and a few of my friends had mentioned that I should look into creating an actual coloring book. I played around with a variety of ideas for that first book, but in the end, I settled with what I knew best, and where my community was. Which was the world of service dogs; that's how my service dogs coloring book started.

Do you have a favorite service dog story?

Well, every service dog story makes me cry if I think about it, because these dogs are the difference between someone being dependent on other humans for everything, and being able to be independent and live their life. But, you asked about my favorite. That's a difficult question to answer, I mean, I have my own. Two years ago I started training a little mutt puppy named Arya to help me with symptoms of my disabling anxiety and depression. As my symptoms worsened, she learned how to deal with them, and constantly amazed me at all she was able to learn and soak in.
Arya is the first dog Kelli trained as a service dog. She now works for a new family helping them cope with fears and anxieties.
Seven months ago I moved back in with my parents, and my best friend ended up taking my service dog for me since I wasn't able to bring any of my animals here with me.
She had been trying to train dogs to help her for a couple years at this point, so having a dog that was fully trained to assist with her physical and mental disabilities was a huge help. And even though I was losing my dog, my lungs, my independence, she was able to help my best friend gain hers. Since then, she has gone on to not only help my friend, but her kids as well.
There was a house fire that could have taken their lives a couple months ago. Since then, the girls had been having nightmares and panic attacks. What Arya has been able to do since then has been amazing. She used her training and knowledge I put in to provide comfort, provide distractions, interrupt meltdowns, wake the girls up from their nightmares, and provide them with the safety that they needed. And recently, one was able to sleep the whole night in her room. Which, so soon after the fire happened, is just amazing.
So, even though I don't have my independence at the moment, and I have my struggles with living my life without her, I really can smile and know that she is OK… and not just OK, but helping someone else.
It's kind of a personal story, but it's also my favorite because these dogs really do learn to pick up on things, and with the right training, they are able to take their natural instincts and truly make a difference in someone's life. And of course… it's my own dog… and it was my training over the course of two years that allowed her to be able to do things… so it's kind of a point of pride, as well as an overwhelming honor.
What are a few important differences between service dogs and pet dogs?
Well, one of the most important differences is that a service dog is a dog that was trained to provide tasks or work to directly mitigate their handler's disability. Legally, that is the main distinction under the Americans with Disabilities Act. Other countries such as Canada, UK, Australia, NZ, etc all have different requirements and regulations, but the primary distinction with all of them is that the dog is specially trained to do certain things that mitigate their handler's disability.
Tasks/work are terms used to describe things that the dog does for their handler. For example, a dog is trained to pick up anything that their handler drops. Or guide a blind handler safely around town. Or pull against a special harness to provide counterbalance in order to keep their handler balanced and upright. Or alert their handler to a medical condition such as blood sugar changes or syncope, or even seizures. Or respond to those conditions by fetching medication or getting help from other people in the area. In the case of disabilities affecting mental health, dogs can be trained to do a lot of things. From providing a harsh nudge with the nose or paws on their handler's lap to break up a dissociation or flashback, to guiding someone to a safe exit or location, to waking them up from night terrors and turning on lights, searching rooms or helping their handler discern whether something is real or a hallucination. There are so many things that these dogs can be trained to do. As an additional side note though, the ADA does not consider either protection work or emotional support to qualify as tasks.
Another important distinction is that pet dogs don't have to have any specific health or temperament requirements. As long as you love your dog, it's OK that it only has three legs and is fearful around the vacuum cleaner. However, service dogs need to be at the peak of health, with as bombproof of a temperament as possible. Dogs may fit these requirements initially, but as training continues or the dog works throughout its life, things become apparent, and the dog is "washed" or "retired" from service work, meaning they stop training and stop working, and then just become that pet dog again.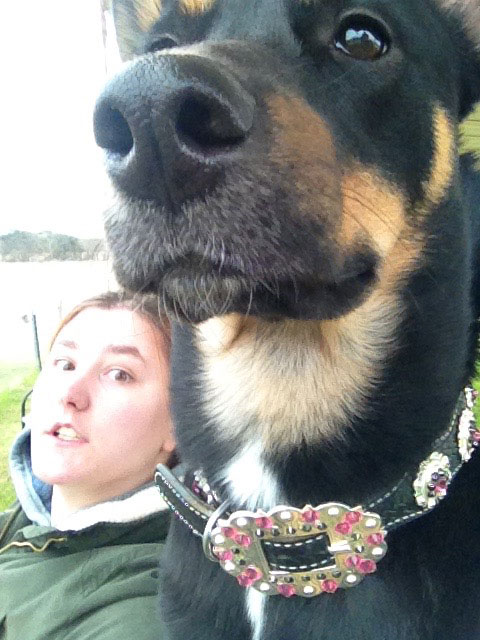 Kelli and Arya
It usually takes about two years to train a service dog from start to end, since it involves more than just training the dog to pick up things for their handler, or pull against a harness from one place to another. It involves a very high level of off leash obedience in extremely distracting environments. A service dog needs to be able to walk through a very large and loud crowd and ignore everything around them except their handler. It takes a long time for a dog to get to that point.

Service dogs can be any breed, size, or gender. I tried to show that in my service dogs coloring book, featuring chihuahuas, great danes, and everything in between.
What could pet dog owners learn from service dog owners?
Increase your expectations. Your dog isn't stupid or stubborn. It just doesn't know what to do, and you need to show them what to do. Service dogs don't pop out of the womb knowing what to do and how to do it. They have to be shown how to do it, over the course of several years.
Kelli having fun while drawing dogs...
Your dog might not be an expert trick dog and you might not want a dog that knows how to open doors and turn lights on and off, but your dog can help you pick up your clothes. Your dog can walk nicely on a leash and ignore the other dogs on your way around the block. Your dog can go to its crate or bed on command. And more.

In addition to increasing your expectations, realize that your dog WANTS to learn and get out and do things. Not go get groceries with you, but your dog doesn't have to stay in the backyard or the house because it doesn't know how to walk on a leash without lunging at everyone it passes. It takes time, yes. Your dog will probably not get it the first, or even fifth, or twentieth time that you've showed them how to do things. But he/she will get it. And that training and extra time you are spending helps make a happier dog, and a happier you. When your dog understands what to do, and what makes you happy, they will do it. But you need to put in that effort.

In the many gaps in knowledge about dog training and behavior that still exist, where in particular would you like to see more research done?
Everything. Haha, I mean, I love research. I love long-winded things. I want to know what dogs are doing, and why. Always. However… you did ask me what I specifically wanted to see more on.

It takes 2 years to train a service dog. That is how long Arya (in the picture) spent with Kelli working together to become one.
Probably more regarding drives and motivations. Just because that is a personal interest of mine. The first thing I do with any dog (or cat, or horse, or cow, or any other animal for that matter) is find out what their motivation and drives are. I watch and interact with them to find out what gets their attention. What will they fight to try to get, and what they will ignore, and how to use those drives and motivations to manipulate their behavior and actions. I just find it fascinating, to see what drives and motivates each animal, and I'd love to see more research on that, and how those things can be manipulated more effectively to impact changes in behavior.

Kelli's Service Dogs Coloring Book

You can find Kelli's Service Dogs Coloring Book on Amazon.

It is a great book for kids to learn and paint, and grown ups too!


Service Dogs: a coloring book
We want to thank Kelli Bannert for taking the time to speak with us at Dog Training Excellence.  We hope she has given you some food for thought and helped you understand your canine friend a better.
You can join Kelli's journey and learn more about her service dogs coloring book by liking her Facebook page and see more of her work in her instagram page.

---
Home

>
Interviews with Pet Professionals

>
Service Dogs Coloring Book
---