Interview with Houston Dog Trainer
Abby Harrison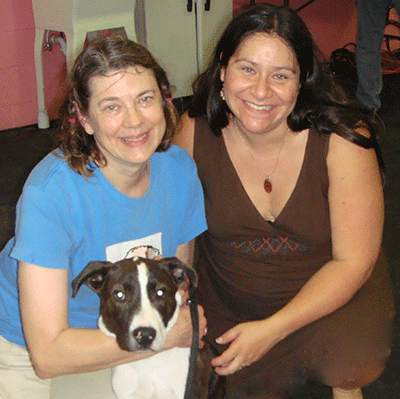 Abby (left) and me (right) at a dog training seminar near Houston.
In this interview with Houston dog trainer Abby Harrison learn her tips on pet training and how to be prepared for your pooch in case of a natural disaster.

I met Abby through a certified trainer's forum as I was getting ready to move to Houston, TX. I was so happy to have met her because she was so helpful and kind. I also instantly liked her because, like me, she is constantly learning and staying up to date in the latest in dog training.
Abby owns Sit Dog Stay, a reward-based Houston dog training school. She has over 10 years of experience and is a Certified Pet Dog Trainer.
Her love for our canine friends is shown by the fact that she has volunteered at the SPCA and at the Lone Star Boxer rescue as a trainer. She also volunteers at the AKC's education programs at the Reliant Dog Show every year giving informational talks to pet owners.
We asked Houston dog trainer Abby to answer a few questions about dog training for us, and we think you'll find her answers helpful and interesting. Enjoy!
---
1- What do you enjoy most about being a Houston dog trainer?
Seeing when someone starts to see the training work - they get all excited when they see that the dog starts to do what they ask.  It is an "Oh! Look at that!" moment.  Then the owner realizes how doable this really is.

2- As a volunteer trainer at the Lone Star Boxer Rescue, What would you advice new dog parents that want to adopt a rescue boxer? What is most adorable about their breed? what is least adorable and how to get past it?
| | |
| --- | --- |
| Abby loves boxers! Her training philosophy is to use positive reinforcement to teach your dog the right thing to do, to train alternative behaviors to get rid of unwanted ones and to have fun! | For me, I love the boxer personality.  They have such joy in life and it stays with them.  The going joke is that puppies are puppy-like for about a year, labs used to be puppy-like for 3 years but they are now talking 5 years but boxers are forever.  They are also a wash and wear type breed so I have minimal grooming.  |
I have heard from other owners that they can sometimes have a flatulence problem.  I didn't really have that with mine but I also didn't feed them corn based kibble which may or may not be part of the problem.
3- You have been very proactive in teaching dog parents about the importance of disaster pet preparedness, What are the 5 most basic things we should do to keep our pets safe in case of a hurricane or other natural related disaster?
Prepare, prepare, prepare.

A- What if you lost your dog?  Is your dog chipped?  Does it have tags?  Mine have 2: 1 is just the phone numbers to call and that there is a reward.  No one needs to know the name of my dog unless they are planning on keeping it.  2 has a note about taking the dog to vet and where my vet is.  Why not make it easy to for someone to drop off the dog at the one place where they know your dog, know the medications and can board it until they contact me?  


Read Abby's complete list on how to be ready for your pet in case of a disaster here.

Do you have current pictures showing a head shot, profile shot? (and a shot of you with the pet does help in showing ownership).  How much does your dog weigh?  Try taking the pictures and weighing the dog when you give the heart-worm.  That way,  you know you always have the most up to date information.
B- What if you have a minor emergency?  Do you know where your nearest emergency vet is?  Do you have an animal first aid kit or an animal first aid book?  Both of those are good things just to have on hand.
C- How do you transport the dog in the car?  Is it loose?  If so, it can be a flying object in an accident.  A 13 pound dog at 30 mpg will hit something with 390 pounds of force.  And it is unlikely to survive.
D- Do you have an evacuation plan?  One is good but more is better.  Write out what you would take if you had to leave in 5 minutes, 20 minutes and 50 minutes.  Beside each item on your list, write down where it is because in the stress of the moment, one can forget many things.  And, it is hard to forget dog food if it is right there next to the dog leash, crate, dog meds and food bowl.  You are unlikely to ever need it but ... you won't be making decisions about how valuable something is or isn't if it does happen.
E- As part of my evacuation plans, I keep the latest vet paperwork in the glove box.  In a disaster, the vet may or may not be able easily (read quickly) recover that your pet is current on vaccines.  If you evacuate, you may need it were ever you wind up.

4- Having had so much experience as a Houston dog trainer, what do you think owners find most challenging? What is the solution you give them?
As a positive Houston dog trainer, Abby (right) will only ask you to bring to class 3 things: a soft collar with a 6-foot lightweight leash, a clicker and treats!


TMI (Too much information!) is a problem.  It seems like almost everyone has an opinion about training your dog but they may or may not have the most current training information. 

Many things we used to think about dogs have turned out to be inaccurate.  Dog training professionals read books, watch videos by various knowledgeable scientists and trainers, attend seminars and we have email groups which allow us to pick other trainer's brains if we need help.  We live to bring you the most up to date information to help you in any way we can about your situation.  They don't let just anyone walk into a school to teach and so it is about teaching you to train your dog.  You want someone who has the education and knowledge behind them to help you.
5- What books or popular dog trainers do you recommend to dog parents for more information?

There are some really good authors out there like Dr. Sophia Yin (How to Behave so Your Dog Behaves). Dr. Patricia McConnell has a wide variety of books.  Both of these authors have books which are quite readable to anyone, not just the trainers.  Jean Donaldson has some great stuff out there as well.

We want to thank Houston dog trainer Abby Harrison again for taking the time out to speak with us at Dog Training Excellence.  We hope she has given you some great ideas and opened your eyes to the importance of disaster preparedness.

If you are interested in Houston Dog Trainer Abby, you can check out her training school and classes at:
---
Home

>
Interviews with Pet Professionals

>
Interview with Dog Training Abby Harrison
---