Starting a pet sitting business:

Interview with James Cave and Jemma Porter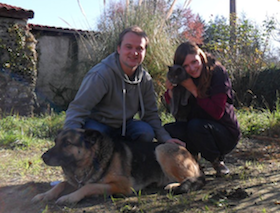 Starting a pet sitting business adventure! The James Cave and Jemma Porter way...

James and Jemma, an European couple, dreamed about traveling the continent, tasting good food and whine. They made their dream come true as House/Pet sitters and they get the perk of getting to know all sorts of animals too.
We asked them to tell us their story and what they have learned from it. Read along to learn about their exciting life adventure.

1- What inspired you to get into the nomad pet-sitting adventure?
Both Jemma and I have roles that don't necessarily need us to be in a specific location. I work on the technical aspects of a website and Jemma is a copywriter and we felt like we were wasting an opportunity by working in the "traditional way".
We decided to take our jobs on the road with us and started looking into the best way to do this. At the time we were living in a rented flat in Edinburgh and so hadn't been able to have pets of our own. Once we stumbled across the idea of pet sitting, an opportunity to look after pets whilst traveling, we knew this was the right way forward for us.


2- Why did you decide to offer your services for free?
| | |
| --- | --- |
| We see pet sitting as the perfect win-win situation. For us, we get to travel and have pets in our lives. For the pet owner, they not only get someone who will take on all of the responsibilities for free (cat feeding, dog walking, grooming etc) but someone who is actually going to live in the home and keep their pets company. In our case, we have work commitments which mean we're in the house all day for at least five days a week, usually with the pets curled up next to us, which means they get care and attention all day long. | Jemma having fun with one of the dogs they have taken care of. Lots of love and wet kisses are part of the deal too! |

A quick look through a sample of pet sitting jobs shows that most petsits are straight-forward like this and involve little more than dog walking, cat feeding and plant watering. If that's all we have to do, along with spending time with the pets (something we would jump at the chance to do anyway) we don't feel the need to charge. It's a very fair exchange.
3- Do you have to be certified to be a pet/house-sitter? What makes a great pet-sitter?
You can't get a pet sitting degree, so as a home or pet owner you need to be scrupulous when choosing a pet sitter. A good pet sitter is one with experience, ideally someone who's looked after similar animals and even better, similar breeds to your own pet. Trusted Housesitters, the site we use for finding our house sits, highlights pet sitters with references and experience. To get a reference from a Trusted Housesitters Homeowner you will need to have already taken on an assignment from the site so faking that reference is next to impossible. It's a good measure of which sitters are worth taking on.

4- What are the challenges of being a pet-sitter?
James taking care of one of the Alpacas. They do look cute!


Every pet is different and so the challenges change from assignment to assignment. We've looked after a number of pets that needed medication at specific times of the day and we looked after a farm of 18 alpacas not too long ago and had to work alongside a vet to help clean out a very nasty wound on the alpaca's face.

One challenge that's the same across all pets is saying goodbye at the end of a petsit. That's something that never gets easier.

We are currently on a five month house sit and I already know at the end it's going to be really difficult to say goodbye.
5- What kind of care do you provide for the animals you look after?
The pet owner will give us a list of responsibilities and tasks to be carried out. We've done everything from cat feeding to administering medicine, both independently and alongside a vet. Although we're experienced enough to handle most tasks, if there's anything outside of the list of responsibilities given to us by the pet owner we'll get in contact with them to ask what they'd like us to do first. We maintain contact with the pet owner or their designated contact throughout the duration of the petsit.

6- Do you use any training methods or other techniques to get close or bond with the animals? What are they?
During a handover we spend a lot of time getting to know the pets with the owners before they go away. We pay a lot of special attention to words and phrases the owner uses when speaking to their pet, and we essentially try to mimic them as much as possible when we deal with the pets.
For example, we've looked after pets for an Australian couple before and they used to always tell the cat that the was "carrying on like a pork chop". We had to Google what this meant (it means playing up) but we found that it was a phrase the cat recognized and so using it reduced any separation anxiety. We haven't looked after any pets that were bad tempered or had any behavioural issues so that'sbeen a blessing!

7- What have you learned from the time spent with all these different animals? any insights into animal behavior?
I think to be a pet sitter you need to be quite firm. Spoiling pets is exactly that, you're spoiling them. We picked up quite a few good habits when we looked after an Alsatian and it was essential that we were seen by the dog as the leaders of the pack. We've carried what we learned from that assignment through to all of our other pet sitting assignments. The animals respect us and that's important for the pet-sitter-pet relationship.

We want to thank James Cave and Jemma Porter for taking the time out to speak with us at Dog Training Excellence.  We hope they have given you some insights into starting a pet sitting business or how to find a good one!

---
Home

>
Interviews with Pet Professionals

>
Interview with Pet Sitters James and Jemma
---